Following the success of our last event (the 'Winter Warmer' last December) the Friends once again set to work with the Ranger and planned an Open Day and BBQ. It took place on 17th August 2013 from 12:00 noon to 4:00pm. Everyone was welcome to come along, and good fun was had by all.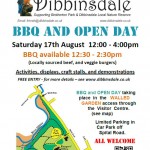 Several activities and attractions were available :
Woodcraft Skills Demonstrations, including pole-lathe wood turning and the techniques of working with fresh green wood.
Butterfly making Demonstration and instruction on how to make artificial but very realistic butterflies and moths. Using techniques used in preparation of museum displays. They are amazing, lifelike and very eco-friendly.
Face painting Turn you youngster into a tiger, butterfly or spiderman, amongst other designs!
Incredible Edibles Demonstrations of growing your own produce.
Seed Planting For youngsters. Plant and grow your own cress crop. Good fun, fast growing and tastes great!
Pottery Decoration Pottery blanks available for painting to create your own designs.
Tarot Reading  Fortune reading through Tarot cards!
BBQ The BBQ itself. Once again we are sourcing the meat from local producers and ensuring a very high quality burger. A vegetarian option will also be available. Cooking will start at 12.30 so make sure you get there on time.
Drinks  Tea, coffee and soft drinks will also be available.