We are pleased to have been awarded a Wirral South In Bloom plaque which comes with a grant to be used to help us maintain and improve our floral displays.  This has been mostly used to buy  seed for our wildflower meadow near the carpark, and the remainder will go towards some bulbs to give us some Spring colour next year.  The photo shows Mike and Ron receiving the plaques from Fergus Adams who is the Constituency Manager (Wirral South).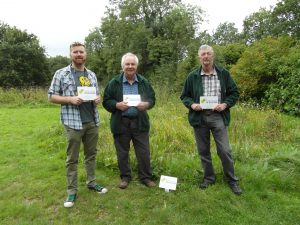 The Ranger and his team of regular volunteers are delighted to announce that we have once again achieved the standards required in the Park to win a prestigious Green Flag Award.  Here are the Team (with a couple of helpers…) with the new Green Flag.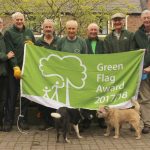 Dates to note:
30th September 2017 – the final date for entries to our Photographic Competition. (see below for details)
9th December 2017.  Our traditional Winter Warmer event in the Walled Garden. BBQ, crafts and some music (we hope).
————————————————————————
Now we are into 2017 we are launching our
DIBBINSDALE NATURE RESERVE PHOTOGRAPHIC COMPETITION
As part of our continual aim to promote the enjoyment of visiting Brotherton Park and Dibbinsdale Local Nature Reserve, we wish to produce a Calendar for 2018, which will highlight the beauty and diversity of the landscape, wildlife and flora through the seasons.
WE THEREFORE INVITE ALL YOU BUDDING PHOTOGRAPHERS, WHATEVER SKILL LEVEL, to visit the reserve and submit digital pictures which best capture the Reserve's diversity. All we ask is for you to submit your digital picture(s) to friends@dibbinsdale.co.uk as a jpeg, no more than 4MB per photo, and preferably in landscape by 30th September 2017. Please add any notation you consider appropriate.
When submitting your image could you please reference your file and the e-mail subject heading with your telephone number. This is necessary for us to ensure the image and the submitter are cross referenced when we start the selection process.
During October/November we will, together with Wirral 20 Photography Club, decide on 12 photos which will be submitted for printing.
If you have any queries regarding the above then please e-mail us through the above address.
Peter Miller      –     Friends of Dibbinsdale Chairman
(In the future we may wish to use some or all of the submitted photos as promotional material for the Nature Reserve, be it through a display in the Visitor Centre, our Quarterly Newsletter etc. If you have any objections to this then please let us know with your submission). 
We Had an excellent Winter Warmer event at the beginning of December. An estimated 500 visitors came along and we hope you all enjoyed it.
—————————————————————————————–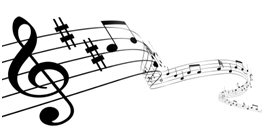 Afternoon Tea with a Slice of Music held in June 2016 with musicians from the Liverpool Philharmonic Orchestra  was a resounding success (excuse the pun). The the music was excellent and the weather brilliant and everybody who came along thoroughly enjoyed it. 
—————————————————————————————-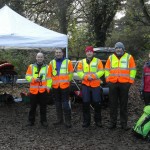 On Sunday 22nd Nov 2015 the ladies and gents of the newly formed Merseyside Search and Rescue Team held a training exercise in the reserve.  Well done folks, glad to see you around, but lets hope we don't have to call on your services!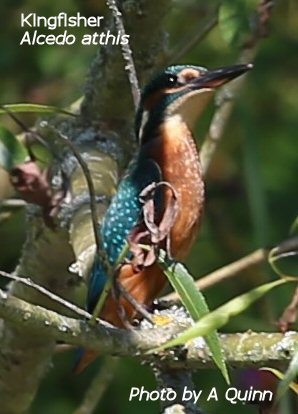 Kingfishers.  Great news the kingfishers are back.  After being absent for the past two years we are delighted to see at least two back along the river.  There have been quite a few reliable sightings recently and one of our regular visitors has managed to get a decent photo.  The kingfishers disappeared as a result of the very hard winter in 2012/13 during which the river actually froze over for most of its length.
New Park Benches.  Two new benches have been installed, by the volunteer team, in the Spital Fields area of the park.  Great for relaxing in the sun and enjoying the wonderful views or just sitting and getting your breath back after climbing the 'Tunnel Steps'. See the Volunteers Diary page for photos.
Work on a second outdoor shelter, that the Rangers tractor will actually fit into, is now completed. The old leanto shed was demolished with amazing ease as all the bases of the supports were rotten. The new one has been built to last!
Visitor Centre Developments. The roof of the Visitors Centre has been replaced/repaired. This should stop the leaking that made it damp and unsuitable for display of any dry materials.  We have also installed a large TV in the centre (kindly donated by a Friend) on which we can display pictures taken in the park.  If you have any photos  you would like to share with our visitors please send them to the ranger.(digital format only please)
Pond Work…The large fishing pond near the rangers office has been de-silted. This is to improve the nature of the pond and took about three days. Fishing during this work will not be advisable.  The pond cleared relatively quickly and fishing now seems back to normal. There has been much less algal bloom this year – it looks like the work was very beneficial.
We held our second  Winter Warmer on Dec 7th 2014 and it was a great success. Everybody who came seemed to enjoy themselves and have a good time. Making Xmas decorations proved to be very popular, (if not always ending up with the desired result!) as did the excellent burgers and of course all to the live carol singing from the choir.
Outdoor Theatre arrives in Dibbinsdale…..The Studio Players presented "Mary Queen of Scots" in the Walled Garden (behind the Visitor Centre) on Saturday 16th August .  Many of the audience arrived early and brought picnics.  The rain held off and an excellent evening was had by all.
A brief survey last April noted about 80 different plant species growing in the Reserve and there will undoubtedly be more to add to the list as more areas are surveyed and the Summer arrives. (More details to follow). A new technique for surveying the habitat called Rapid Assessment Method is now being trialed by Cheshire Wildlife Trust and several area within Dibbinsdale are now being surveyed this way. Boden's Hey Meadow was full of wild flowers last June. There were significant areas of Yellow-Rattle (also called Hay-Rattle). This is very important as it helps keep the grasses in check and permits other wild flowers to grow.  These include common spotted orchids, a range of clovers (white, red & zig-zag), birdsfoot trefoil , black knapweed (aka hardhead) and betony. We have also found crosswort which has small flowers with a peculiar honey-like scent.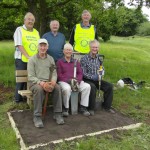 In addition to the lovely wild flowers the meadow now also has a new seat This was designed and adorned with carved owls by Alan ,our Ranger. It was erected on site by a team from North Wirral Rotary Club.  For a good look at the seat and the great view it affords a visit is highly recommended.   Bodgers Shed.  A major project to build a Bodgers Shed for woodland crafts is now underway. The original shed was very old and had become unsafe.  The new structure is now complete and fitted out with traditional greenwood working equipment including pole lathes and shave horses. See the Projects page for details. Brotherton Park and Dibbinsdale Local Nature Reserve is located between
Bromborough and Spital on the Wirral. It broadly borders the course of the River Dibbin for almost two miles.  Many different wildlife habitats are represented in the Reserve including ancient woodland, willow carr, reed beds and wild flower meadows.  It also includes areas associated with the Victorian estate such as managed parkland, a walled garden and a fishing pond. There is also a Visitor Centre located, as is the Rangers Office, in the buildings that were once the estate stables.